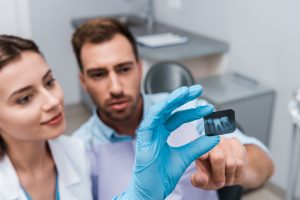 We provide our patients with advanced imaging equipment to ensure that we don't miss a thing when we make a dental diagnosis or prognosis. If you are familiar with imaging equipment, you may wonder if traditional x-rays provide an adequate view of your mouth, or if panoramic x-rays are a better tool for diagnosing a patient's oral health. The following information gives you more details on the differences and advantages of diagnostic imaging tools.
What are the Differences between Dental X-rays ad Panoramic X-rays?
To learn more about traditional x-rays and panoramic x-rays, you need to first define the two main types of x-rays of which these two pieces of equipment represent. Intraoral x-rays, such as regular x-rays, are taken inside the mouth. They allow us to find cavities, check a tooth's root, and examine the bones around the teeth. They also are used to track the teeth's general health and the progress of developing teeth. Panoramic x-rays are examples of extraoral x-rays. Therefore, they do show the teeth, but primarily focus on the skull and jaw. When these x-rays are used, they examine the growth of the jaw in relation to the teeth and check for impacted wisdom teeth.
Which Form of Imaging Provides the Most Detail?
While traditional x-rays show the most detail, you still need to have panoramic x-rays taken for assessing issues with misalignment. Therefore, both x-rays serve specific purposes when it comes to your overall oral hygiene and dental health. You cannot downplay the importance of either type of imaging.
If you have not visited us in some time, now is the time to do so. Schedule an appointment for a routine exam, professional cleaning, and x-rays today. When you have x-rays scheduled, you may want to have both bite-wing (traditional x-rays) and panoramic x-rays taken, especially if you have not had your teeth assessed in over a year. If you are a new patient and have had recent x-rays taken, they can be delivered to our office digitally.