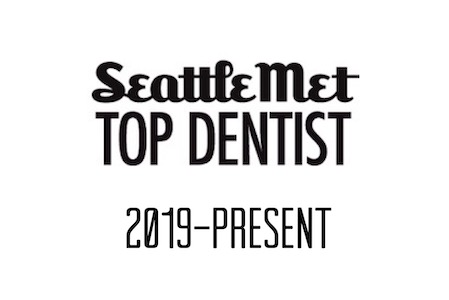 "Distinctive" describes both our care and our staff right here in Edmonds! Our own Dr. Zachary Streit was nominated for Seattle Met Magazine's Top Dentist list for 2019 and 2020!
What our patients say…
All I want in my dentist experience is to feel comfortable. Dr. Zachary Streit, dentist in Edmonds WA and the rest of the staff made me feel comfortable, and the office itself is nice. I look forward to going back!
Greg's Story
Absolutely life-changing experience! Dr. Streit and the entire office are warm and friendly.
Lisa's Story
I have been going to Distinctive Dentistry for several years and have always been very impressed with Dr. Streit and his staff. Great with general check ups as well as fillings, laughing gas, and follow up work. I have also gotten Invisalign here and love the results. Highly recommend.
AJ's Story
Welcome to Distinctive Dentistry
Edmonds WA Dentist
We can help you have a relaxed dental visit. But don't just take our word for it! Schedule a visit to our office to see why our practice name suits us.
Dr. Zachary Streit, dentist in Edmonds WA and his team have created a full-service, family-friendly practice. Our services include everything from routine exams to beautiful bridges and crowns.
Our dentist and staff are here to serve you and help you have a dental experience that is truly distinctive. We are pleased to offer patient comforts and amenities, along with sedation options for nervous patients. Feel free to let us know about any concerns or questions you may have.
Come receive exceptional care at Distinctive Dentistry. We look forward to talking with you.
We Hope You'll Join Us at Distinctive Dentistry
Edmonds Dentist
Patient-friendly Dentists in Edmonds WA. We'll keep you smiling with gentle, time-tested techniques! Ready to schedule an appointment? Our caring family dentist is ready to assist you and your loved ones with all of your dental needs!
Look for dentist Edmonds WA? Need to make a dentist appointment this week? Distinctive Dentistry can help you find the best dentists in Edmonds, WA.
To select a convenient appointment time, contact Distinctive Dentistry today.