For Straighter Teeth, The Solution Is Clear
A modern approach to straightening teeth, Invisalign® invisible plastic aligners can gradually shift crooked teeth into place.
Invisalign® Clear Braces
Invisalign Invisible Braces
Straight Teeth with Clear Braces
Over the years, research and development have made the once embarrassing experience of wearing braces less traumatic. If your dental health requires braces for either structural or cosmetic conditions, you now have the option to select clear braces.
Clear Braces for Adults and Teenagers
Distinctive Dentistry offers a new solution to old wires and metal braces with Invisalign – a way to straighten teeth using custom-made, nearly undetectable aligners. The Invisalign system often achieves the same results as the metal braces that are used to correct teeth if they are too crowded, too far apart, or too crooked.
How Invisalign Invisible Braces Work
Dr. Streit or his dental hygienists will make an impression of your teeth and develop a treatment plan. The office will then submit your information to Invisalign and, with their 3-D computer technology, Invisalign will create your sets of customized aligners. By wearing each set of the aligners over a two-week period, you move your teeth gradually, producing a straighter set of teeth. During your treatment, you can remove the clear braces and eat, brush and floss the same way you always have.
How Long Does Invisalign Straightening Take?
You want to wear your Invisalign clear braces full-time, day and night because the aligners only work when you wear them. Remember, Dr. Streit created a treatment plan for your individual dental requirements. Your dental situation determines the number of clear braces sets you need and how long you need to wear them. However, most treatments produce desired results in 12 months or less.
Are Invisalign Clear Braces Effective?
Yes. Dentists across the United States treat patients with Invisalign clear braces. Dr. Streit may suggest clear braces if your teeth are too crowded, have spaces, or have shifted since wearing braces at an earlier age, and you want to feel more confident during the aligning process.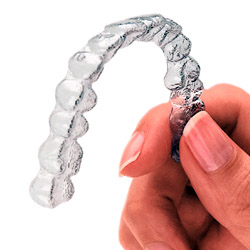 How Do I Start My Invisalign Treatment?
You begin by making an appointment with Distinctive Dentistry to schedule a careful examination of your teeth. Trained and certified in Invisalign orthodontics, Dr. Streit will determine if Invisalign is the right product for you.
Are Invisalign Clear Braces Affordable?
As with the old, embarrassing, metal braces, the cost of Invisalign clear braces varies. The complexity of the treatment determines your expense. Most dentists charge the same price for Invisalign clear braces as they do for traditional, metal braces. Normally, if your dental insurance provides for traditional braces, clear braces are covered, as well.