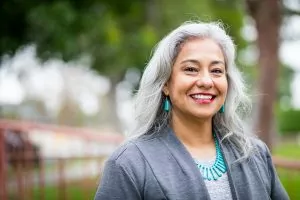 If you've got a missing tooth or two, we, at Distinctive Dentistry can help replace them for you, restoring your dental structure to optimal functionality. One of the more popular dental restorative treatments includes dentures that can replace either the complete set of teeth or a few missing ones. But the traditional denture creation and installation process is quite lengthy and requires multiple visits to the clinic. Digital dentures are a simple, more efficient solution for teeth replacement.
What are Digital Dentures?
Dentures consist of a removable metal plate that holds one or more fake teeth that replace missing teeth in one's. Digital dentures are dentures created with the help of digital technology such as 3D scanners and CAD and CAM software.
How are Digital Dentures Made?
The process of digital denture creation is pretty straightforward. When you come in for a visit, we will collect an impression of your teeth with the help of a 3D scanner. For digital impression taking, the lab specialist will dust your teeth with titanium oxide powder to scan the bite, the teeth, the gum, and the arch.
We will then transfer the images to design software, through which the technician will create a try-in denture. In case there are modifications or alterations to be made, the technician may take some more scans. Otherwise, they can also make alterations to the software based on existing images.
Advantages of Digital Dentures
There are several advantages of opting for digital dentures over traditional ones. The main one being the faster turnaround time. You can get your dentures made within a few days, and you do not need to come in for multiple visits. The dentures are also a lot more durable and fit over the jaw a lot more comfortably. They are also more cost-effective as technology's use drastically reduces the margin of error, bringing down overall production costs while keeping the quality.
Visit Distinctive Dentistry for a consultation today!