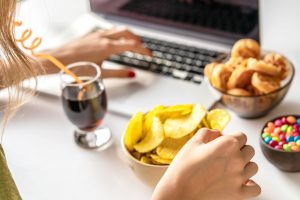 We have a reason why we insist that our patients practice healthy snacking. We know, all too well, how processed and sugary snacks can affect our patients' dental health. That is why you need to steer clear of certain snacks, as they can increase the risk of periodontal disease and cavities. Instead, choose healthier alternatives – snacks that are not featured in the vending machine at work, or sugary treats that lead to cavities.
What Should I Eat for a Snack?
Both adults and children need to substitute candies, pastries, chips, and other artificial snacks with nutritional vegetables, fruits, and dairy. The foods you eat should be nutrient rich and not possess empty calories. Processed foods and sugar trigger acids that lead to decay. Therefore, every vending machine should feature a dental alert: "Warning: The Food in this Machine Is Dangerous to Your Oral Health."
What Switches Should I Make?
Switch to healthy snacks, such as yogurt, cheese and celery or organic unsweetened peanut butter. Carrots, sesame seeds, or naturally sweet foods, such as pears or peaches are also good snack alternatives. If you work in an office or factory, bring your snacks to work instead of going to the vending machine. If you want to have better dental checkups, you should avoid doughnuts in the morning or vending items in the afternoon.
We want to make your dental visits valuable to you. That is why we support healthy and nutritional eating. When you eat the right foods, you will also smile more and worry less about your overall health. Take a proactive stance and switch out processed and sugary snacks with nutrition-dense and low-calorie snacks. Give us a call to set an appointment, as well, if you have not had a check-up and cleaning in over a year. We can accommodate even the busiest schedule. Start now and make a resolution to snack differently."